MPs say unprecedented investigation will study harm caused by toxic air and scrutinise government efforts to tackle it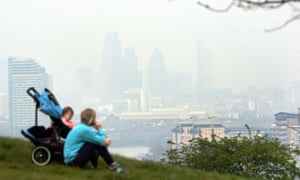 MPs from four influential committees are coming together to launch a joint inquiry into the scale and impact of the UK's air pollution crisis.
In an unusual development, the environmental audit committee, environment, food and rural affairs committee, health committee and transport committee will hold four sessions to consider mounting scientific evidence on the health and environmental effects of toxic air.
Dr Sarah Wollaston, the health committee chair, said poor air quality was "affecting the health of millions of people across the UK".
"Our joint inquiry will include an examination of the scale of the harm caused and the action necessary to tackle it," she added.
Last month, the Guardian revealed the risk to children's health posed by air pollution, identifying 802 educational institutions in London where pupils as young as three are exposed to illegal levels of air pollution.
The government says toxic air causes up to 50,000 early deaths – 9,000 of them in the capital – and costs the country £27.5bn each year.
The government's own statistics show 38 out of 43 UK "air quality zones" breach legal limits for air pollution and last year the high court ruled ministers must cut the illegal levels of NO2 in dozens of towns and cities because their current policies to improve air quality were so poor they were unlawful.
The government has to announce its new plans before 24 April and the inquiry will examine whether these proposals go far enough to cut pollution "not only to meet legal limits but also to deliver maximum health and environmental benefits".
Mary Creagh, chair of the environmental audit committee, said: "The UK courts have twice found that the government has failed to deal with our air pollution problem properly. Now ministers will face unprecedented scrutiny in parliament to ensure they finally step up to the mark to ensure adults, and children in particular, do not have their health damaged by filthy air."
Much of the most dangerous pollution comes from diesel vehicles and there is growing pressure on the government to introduce a diesel scrappage scheme to encourage people to swap polluting diesel vehicles for cleaner alternatives.
Louise Ellman, chair of the transport committee, said the UK economy depends on an "efficient and flexible transport system" but added: "Emissions from vehicles are a significant problem and the standards that governments have relied on have not delivered the expected reductions. We will be asking what more can be done to increase the use of cleaner vehicles as well as to encourage the use of sustainable modes of transport."
Neil Parish, chair of the environment, food and rural affairs committee, said the joint inquiry was unprecedented.
"The solutions to cleaning up our air are not the responsibility of just one minister. That's why we have taken the unprecedented task of convening four select committees so we can scrutinise the government's efforts from every angle and look for holistic solutions that are good for health, transport and the environment."
Source: Four select committees launch joint inquiry into UK air pollution crisis | Environment | The Guardian