Region contains five of top 10 hotspots outside London for dangerous levels of nitrogen dioxide pollution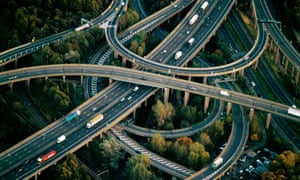 The West Midlands is one of the worst hit areas outside the capital for illegal levels of nitrogen dioxide pollution but many don't seem to realise they and their children are breathing some of the UK's most polluted air.
The region is criss-crossed with motorways and dual carriageways churning out NO2 from hundreds of thousands of diesel vehicles. The government's own figures show air pollution is responsible for almost 3,000 deaths a year in the West Midlands and in 2015 Birmingham was one of five cities – alongside Leeds, Nottingham, Derby and Southampton – ordered to introduce a clean air zone by 2020.
Today's study shows that the region contains five of the top 10 pollution hotspots outside the capital in relation to the exposure of nursery children to NO2.
But despite this bleak picture there appears to be a lack of awareness among many of those living and working in some of the worst hit areas.
In Birmingham there are 38 nurseries and 30 schools within 150 metres of a road where emissions of NO2 are above the legal limit. Of the 10 worst affected nurseries none were aware it was a problem when contacted by the Guardian. Proprietors and managers of the nurseries said air pollution was not something that they – or the parents – were aware of or discussed.
James Burn, the Green party candidate for West Midlands mayor, said a lack of investment in public transport had resulted in "terrible, hidden consequences" across the region – with the young and poor suffering the most.
"The West Midlands is facing an air pollution crisis – the shocking truth is that 3,000 people a year here die prematurely from breathing our dirty air," said Burn.
He said the area had been the "poor relation" in terms of investment in public transport for decades.
"For us to tackle this problem we need a huge investment from government to enable us to build a world-class public transport system that gets people from A to B without contributing to air pollution and congestion. Until that happens, we'll continue to see cars choking up our roads and our most vulnerable citizens choking on filthy air."
Anne Shaw, Birmingham council's lead officer on air quality, is one of those tasked with tackling the problem. She said a lot of work was underway, but admitted it was a challenge to change people's attitudes to driving in a city that "grew up on the car industry".
According to the council's own figures 900 people die from poor air quality in the city each year, compared to 30 from road accidents.
"The car is ingrained into the people that live here and it is a challenge to change that."
However she said the council had a range of measures, from encouraging low emission vehicles to a revamped cycle network to help tackle the issue.
"We are not anti-car, the car is still here, but there are 200,000 journeys of under a mile in this city each day – it is about removing some of those trips."
Source: 'The car is ingrained into people here': West Midlands faces air pollution crisis | Environment | The Guardian