Krakow says it will introduce a ban on burning coal in households, offices and restaurants, despite protection of the industry becoming an election issue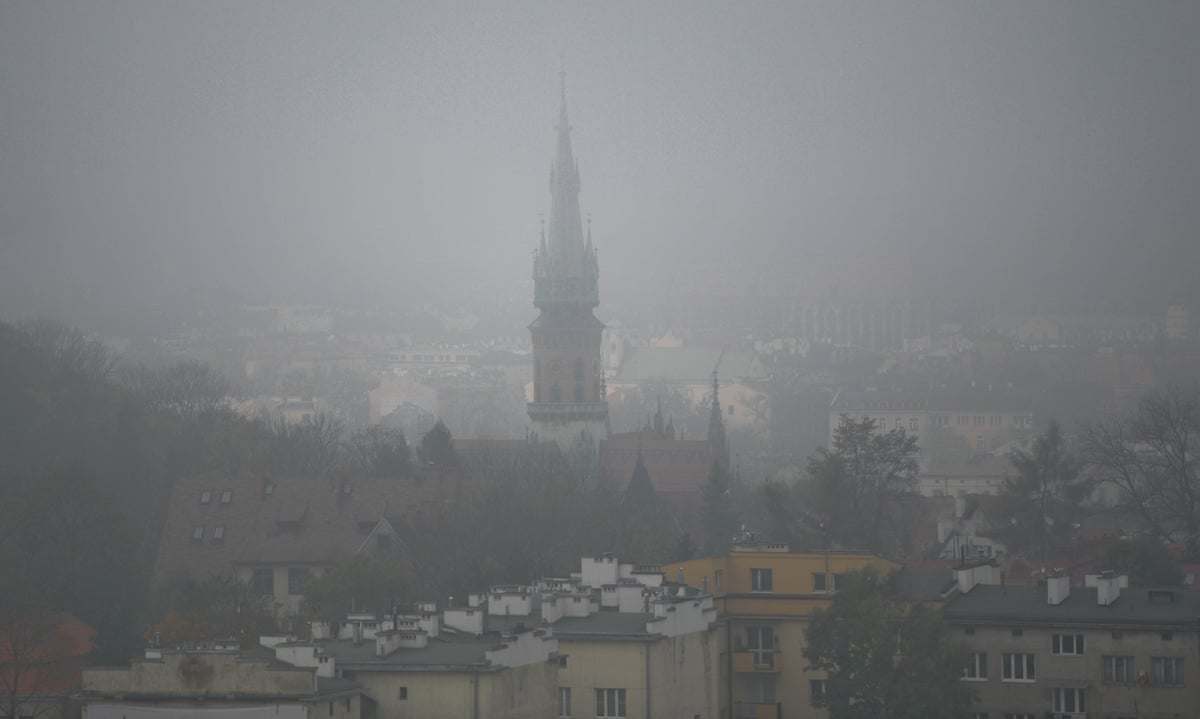 The Mayor of Krakow has told the Guardian he will introduce a ban on coal use in households, offices, government buildings and restaurants after an amended Environmental Protection Act was signed by the country's president, Andrzej Duda.
Poland's second largest city is as famed for the filthy smog that cakes its buildings and streets, as for its beautiful historic buildings. The European Environmental Agency has ranked it the third most polluted city in Europe and its particulate matter (PM) pollution can reach six times the safe levels.
Household stoves burning coal are responsible for an estimated 88% of the country's non-industrial air pollution – and almost half of Krakow's PM pollution. Under the new EPA signed on Tuesday, which was amended after a long-running battle with the courts, local authorities can now prohibit their use.
"We will concentrate our efforts on introducing in Krakow a ban on the use of coal in individual furnaces and boiler rooms," said Jacek Majchrowski, the city's mayor. "It will speed up the process of removing the coal stoves and replacing them with eco-friendly heating systems."
Poland emits more greenhouses gases and sulphur dioxide from coal than any other European country, and also has the continent's highest coal-related health costs, with around 45,000 premature deaths each year attributed to coal burning.
The coal industry is a major Polish employer, seen as a guarantor of energy independence. The protection of its future has become a major issue in the 25 October elections, with the leading parties out-bidding each other in its defence.
The country's prime minister, Ewa Kopacz, last week announced a plan to transfer publicly-owned stakes in coal companies such as PGE for use as collateral in their buy-out of TF Silesia, a highly unprofitable national coal firm.
"In that context the decision in Krakow gives hope," the Liberal MEP Gerben-Jan Gerbrandy told the Guardian. "All of Poland's political parties are unanimous about protecting coal consumption so when, at local level, people start questioning its use for health reasons, it might become a game changer in the national debate."
The Krakow council now says it will move ahead with plans for new district heating networks, and revamped public transit networks. Vehicle access to the city centre is being limited too, even though the national parliament rejected the introduction of low emissions zones in urban areas.
Majchrowski said he would also urge the Małopolska regional authority to follow Krakow's lead and adopt the ban on solid fuels in heating. "We are hoping that local authorities elsewhere will start fighting air pollution as vigorously as we do in Krakow," he said.
"This is a chance for a breakthrough in the fight for clean air in Poland," said Ilona Jędrasik, a spokeswoman for the environmental law firm ClientEarth. "Now it is time for local authorities to make their next move."
Poland depends on coal for nearly 90% of its electricity, and its defence of the fuel has been an ongoing bugbear in European climate negotiations.
Source: Poland's second city to ban coal use after anti-smog law approved | Environment | The Guardian