Report outlines moves that would cut pollution from road transport and gas combustion in London and increase life expectancy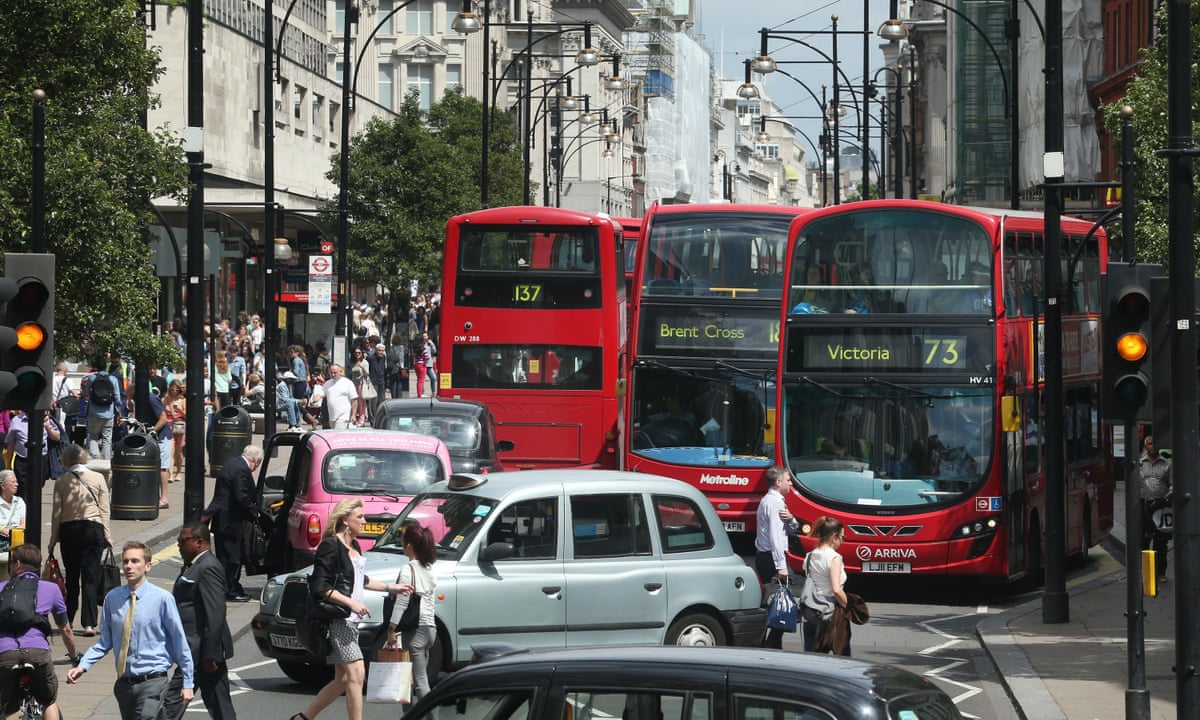 Scrappage schemes for diesel cars and boilers, and allowing only the cleanest buses to drive on key polluted roads are among measures proposed by experts to cut pollution and help people live longer.
The moves to cut pollution from road transport and gas combustion in London could increase the average life expectancy of people born in the city in 2025 by more than a month, leading to economic benefits of £600m a year, they said.
A report by King's College London and thinktank Policy Exchange said the capital faced a significant air pollution challenge 60 years on from the Clean Air Act and needed "an equally robust response" as that piece of groundbreaking legislation.
It calls on the next London mayor to champion a 10-point plan which includes measures to restrict the most polluting vehicles from entering the capital, cleaning up the taxi fleet and completing the rollout of low-emission buses across the city.
The most polluted roads such as Oxford Street should be declared "clean bus corridors", using only the cleanest buses and rerouting some services, the report said.
The next mayor also needs to promote electric vehicles and car clubs, push for tighter emissions limits on diesel vehicles and back calls for an increase in taxes on new diesel vehicles and a diesel scrappage scheme to trade in old polluting cars and vans.
There is also a need to prevent decentralised power stations such as diesel, gas and biomass plants being built where they could affect London's air quality, and to tackle emissions from household boilers by creating a cashback scheme to replace old polluting units.
The report, published ahead of the mayoral elections in May, suggests that the combination of policies would ensure legal targets for nitrogen dioxide pollution were met across almost all of the capital by 2025.
Professor Frank Kelly, director of the Environmental Research Group, King's College London, said: "It is possible to bring the most polluted parts of London – such as Oxford Street – within legal air quality limits.
"However this will require a concerted effort both by City Hall and national government to reduce emissions from road transport and other sources of pollution.'
Richard Howard, head of environment and energy at Policy Exchange, said: "Londoners are becoming increasingly concerned about poor air quality. The time has come for action not words. The next Mayor of London needs to deliver an ambitious set of policies to clean up London's air.'
The study comes after environmental lawyers ClientEarth announced they were taking the government back to court over a failure to take action to ensure legal air quality standards were met across the UK.
James Thornton, chief executive of ClientEarth, said: "This important report should be required reading for all of the mayoral candidates. This public health crisis will require strong action from the new mayor, who should adopt these policies as a minimum.
"London's toxic air undermines its status as a world-class city. This report is a welcome attempt to change that and help Londoners breathe more easily."
Source: Air pollution experts call for scrappage scheme for diesel cars and boilers | Environment | The Guardian