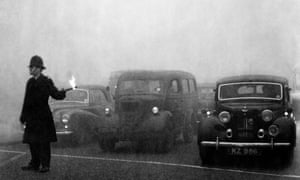 Last week Sadiq Khan, the Mayor of London, joined campaigners to call for a new clean air act.
This July marks the 60th anniversary of the original legislation that transformed the air in our cities and saved many lives. The Act followed the deaths of nearly 13,000 Londoners in the 1952 and 1956 smogs. Government finally accepted that regulating factory chimneys was not enough. We had to tackle home fires, too. This was politically difficult, since a cheery fire was seen as the heart of a family home. The Act required smokeless coals and, importantly, provided money to help people to change their fireplaces and boilers to burn cleaner fuels. It worked. Air pollution improved across the UK and the deaths of up to 700 Londoners during the last great coal smog in December 1962 marked the welcome end of an era.
Since the 1970s, European countries have worked together to control air pollution over the whole continent. Over 30 years these actions saved around 80,000 early deaths, avoiding a health cost of around 1.4% of our gross domestic product. Despite this, we are still a long way from being able to breathe air that does not harm our health. Across the UK, up to 40,000 die early each year due to the state of our air.
Drawing inspiration from the 1956 Act, campaigners and MPs have called for a funded diesel vehicle scrappage scheme to help business and car owners upgrade to less polluting vehicles. Additionally, making public transport, cycling or walking the easiest option for urban journeys could transform our cities and our health.
Source: Calls for a new clean air act in the UK | Environment | The Guardian