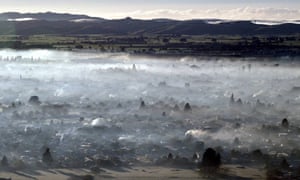 Most images of New Zealand show a pristine environment of great beauty. It therefore comes as a surprise that airborne particle pollution in many towns is above World Health Organisation guidelines. This is not due to the diesel cars that confound efforts to manage air pollution in Europe, or the density of cities and industry that contributes to problems in east Asia, Europe and parts of north America. It is due mainly to home heating.
With limited availability of natural gas and expensive electricity many New Zealanders, especially those in the South Island, rely on wood burning to heat their homes. National standards for particle pollution allow for one polluted day per year but Christchurch measured eight in 2015 and the city of Timaru breached standards on 26 days.
New Zealand's poorly insulated homes and fuel poverty contribute to high winter deaths and children's asthma. No heating is not an option. Better wood stoves or heat pumps are alternatives, along with insulation, but upgrading homes takes time and even with modern stoves the smoke produced depends on the user . Teaching people to burn wood better could help air pollution right away. TheWarmer Cheaper programme takes you step by step through lighting a fire and keeping it going for the evening with the least pollution. One of the main causes of smoke is insufficient kindling. Schools and community groups are therefore being harnessed to sell kindling and an award-winning invention, the Kindling Cracker, by Kiwi teenager Ayla Hutchinson can help people chop kindling easily and safely.
Source: All is not pristine in New Zealand | Environment | The Guardian