Air pollution is 'the tobacco of the 21st century' says report, which calls on government to introduce radical measures to improve air quality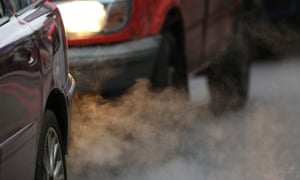 Dangerous levels of air pollution in towns and cities across the north of England are threatening the health of hundreds of thousands of people and stifling economic growth, according to a new report.
The analysis by the Institute for Public Policy Research (IPPR) North describes air pollution as "the tobacco of the 21st century" and says that while there has been a growing concern about the problem in London, many residents in regional towns and cities are unaware of the threat to their health.
Darren Baxter, researcher at IPPR North, said it was time the government took radical action.
"Too often the attention focuses on unclean air in the capital, but the reality is that it's poisoning thousands in our regional cities too," said Baxter. "Michael Gove [the new environment secretary] must show that the government is not prepared to sit on its hands while up to 40,000 people are killed every year from dirty air. We need to see radical plans to ditch diesel, introduce incentives for electric cars and bring in clean air zones in our major cities."
The government has suffered two legal defeats over its plans to improve air quality in the UK after judges ruled they were so poor as to be unlawful. The courts have given ministers until 31 July to publish a new plan.
Campaigners want Gove to introduce a range of measures including charging clean air zones in the worst hit areas and a diesel scrappage scheme to compensate drivers who bought diesel cars after being told they were better for the environment.
The government's own figures show that although London has by far the highest level of nitrogen dioxide (NO2) pollution, many urban areas – including large swaths of the Midlands, the north-west, West Yorkshire and the northeast – suffer dangerous levels of pollution.
The scale of the air pollution crisis was revealed in a joint Guardian-Greenpeace investigation earlier this year, showing hundreds of thousands of children were being educated within 150 metres of a road where levels of NO2 from diesel traffic breached legal limits.
Figures obtained by Labour showed that more than 38 million people, representing 59.3% of the UK population, were living in areas where levels of NO2pollution were above legal limits.
Baxter said: "This is the tobacco of the 21st century, and every single preventable death is a failure of government action. Gove must get a grip on this crisis which is killing literally thousands of children and adults a year."
Tuesday's report estimates that congestion in the north of England will increase by 3% annually. Estimates put the cost of congestion in Manchester and Liverpool alone at £2bn in 2015.
The study is the latest from IPPR North's Northern Energy Taskforce, which has identified the energy sector as one of four key priority areas for the economy in northern England, along with manufacturing, health and digital.
"By taking the killer air crisis seriously, we can prevent many unnecessary deaths and ill-health, especially in our children, while preparing the way for a Northern green jobs revolution," said Baxter.
The report calls for central government, councils and transport bodies to:
• Radically improve green public transport links, especially rail connections, and to prioritise hydrogen-powered trains.
• Pledge to phase out diesel cars over the coming years, in part to help spur the electric car market, in which sector the north is becoming a world leader.
• Introduce a new car scrappage scheme to encourage car owners to upgrade to electric vehicles.
Source: Polluted air 'poisoning thousands' across north of England, warns report | Environment | The Guardian