Exclusive: 59% of the population live in towns and cities where diesel pollution risks damaging health, new data from the Labour party shows
Nearly 40 million people in the UK are living in areas where illegal levels of air pollution from diesel vehicles risk damaging their health, according to analysis commissioned by the Labour party.
The extent of the air pollution crisis nationally is exposed in the data which shows 59% of the population are living in towns and cities where nitrogen dioxide (NO2) pollution breaches the lawful level of 40 micro grammes per cubic metre of air.
Labour says the air pollution crisis is a "national scandal". Sue Hayman, shadow secretary of state for environment, food and rural affairs, said a Labour government would bring in a new clean air act to tackle what was a public health emergency.
"Labour will not allow the Tories to use the snap general election or Brexit to kick this issue into the long grass or water down standards that would put millions of UK adults and children at risk," said Hayman.
She said the party was committed to putting in place a network of clean air zones across the UK where there are high emissions, and would act at an international level to close loopholes in emissions testing of vehicles.
The analysis published by Labour shows more than 38 million people, representing 59.3% of the UK population, are living in areas where levels of nitrogen dioxide pollution are above legal limits.
Local authorities including Aberdeen, Birmingham, Bournemouth, Burnley, Derby, Chelmsford, Leeds, Northampton, Richmond and Sheffield – among many others – have NO2 levels above the legal limit.
The new figures were revealed as the government made a last-minute application to the high court to delay publication of a new tougher air quality plan to tackle the pollution crisis.
On Friday at 7pm, ministers lodged the court application – too late for it to be considered.
Judges had ordered them to come up with a tough new draft air quality plan by 4pm this coming Monday – 24 April – after judges said the original measures were so poor as to be unlawful.
James Thornton, CEO of legal NGO ClientEarth, which successfully took the government to court over its air quality plans, said the Labour data showed that air pollution was a national problem which required a national solution.
"Our court case forced the government to come up with new plans to bring down illegal levels of air pollution across the country," said Thornton.
"Those plans must include a national network of clean air zones to keep the dirtiest diesel vehicles out of pollution hotspots, if we are to stand any chance of dealing with this public health crisis."
ClientEarth condemned the government's application to the high court to delay the plans being published.
Thornton said: "This is not a political issue but a public health issue. Whichever party is in power, the British public need to see an air quality plan which relies on good scientific evidence and which ensures that people no longer have to breathe toxic air and suffer the grave consequences to their health as a result."
ClientEarth will be able to raise objections if the new draft plan – when it is eventually published after the election – does not fulfil the NGO's five clear lines in the sand.
These are:
The need for robust modelling and roadside, not lab-based, emissions testing.
Proper funding to make sure cities and towns can delivery the necessary changes.
Mandated clean air zones in every town and city with illegal levels of air pollution.
A diesel scrappage scheme or other form of compensation for drivers who bought their cars in good faith as successive governments favoured diesel over other fuels.
The Guardian revealed earlier this month that tens of thousands of children in schools and nurseries across England and Wales are being exposed to illegal levels of damaging air pollution from diesel vehicles.
The joint investigation with Greenpeace, which examined the government's most recent air pollution modelling, showed 2,091 schools, nurseries, further education centres and after-school clubs are within 150 metres of a road emitting illegal levels of nitrogen dioxide.
European data shows modern cars emit 10 times more noxious fumes than trucks and buses – which are subject to a much stricter testing regime.
Research consistently shows exposure to traffic fumes is harmful for children and adults. Children are more vulnerable because their lungs are still developing and exposure to nitrogen dioxide reduces lung growth, produces long term ill-health and can cause premature death.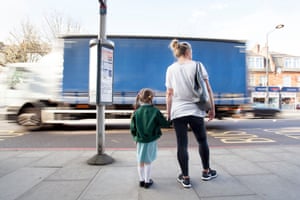 Nitrogen dioxide emissions from diesel traffic cause 23,500 of the 40,000 premature deaths from air pollution each year, according to figures from the Department for Environment, Food and Rural Affairs (Defra). In April last year, MPs said air pollution was a public health emergency.
In London, Labour mayor Sadiq Khan will force polluting cars to pay up to £24 a day to drive into the city when he creates an ultra-low emission zone in 2019. The price will comprise the existing congestion charge of £11.50 per day, which applies to all cars entering inner London, plus an extra amount.
The government's original air quality plan involved clean air zones in five cities and an ultra-low emission zone in London – but these were rejected by the high court.
Source: Nearly 40 million people live in UK areas with illegal air pollution | Environment | The Guardian